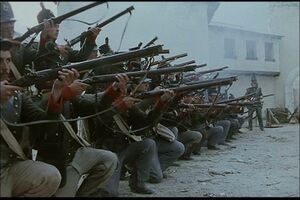 Tom Roper is a 30-year-old Chosen Man (Lance Corporal) in
Captain Vickery's
Company of the
60th Rifles
. He is a non-player character
.
Appearance
Blond-haired and blue-eyed, Roper has a very 'English' appearance, despite having similar colouring to several of the German riflemen of the 60th. He is about 5'8". He wears the green jacket and red facings of the 60th, and has the distinguishing mark of the Chosen Man - a red twill tape band worn around the upper right arm. In the 60th, this just means that he has extra responsibilities and is being prepared for promotion.
Personality
He takes his role as Chosen Man seriously, and is the only English Chosen Man in the 3rd Company. He is a good shot, although not as good as his close friend Cotton, but doesn't mind coming second to the other Rifleman. He does his best by the British Riflemen in the company as he is the only British (potential) NCO.
Ad blocker interference detected!
Wikia is a free-to-use site that makes money from advertising. We have a modified experience for viewers using ad blockers

Wikia is not accessible if you've made further modifications. Remove the custom ad blocker rule(s) and the page will load as expected.