James Vickery is the third Viscount Saltash and is father to Robert, John and Emma Vickery. An outdoors type, fond of hunting and shooting, James served in the Army during the American War of Independence, returning to England in 1780, three years before the end of the war because of his father's ill health. His father recovered enough that he went on a a Grand Tour of Europe, during which he met Charlotte von Alfeld, who became his wife in 1781. Their first son Robert was born in 1782, and he acceded to the title on his father's death the following year.He is an NPC created by Sharpie.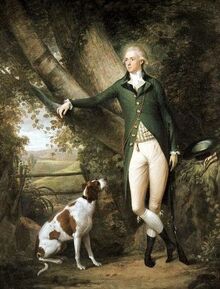 Father: William Vickery (b. 1715 - became 2nd Viscount Saltash in 1745, d. 1783). Fought at Dettingen, married Anne Fletcher (b. 1723, d. 1750) then remarried to Elizabeth Pimbury (b.1734, d.1802)
Mother: Elizabeth Vickery nee Pimbury
Half-brother: Edward (b. 1744, d. 1781)
Half-sister: Laura (b. 1748)
Sister Anne (b. 1752)
Brother: George (b. 1758)
Wife: Charlotte nee von Alfeld (b. 1759)
Issue: Robert (b. 1782), John (b. 1785), Emma (b. 1790)
Going to War
Edit
The Honourable James Vickery (as he was at the time), being the second son, took a commission in the 33rd Regiment of Foot. He served during the American War of Independence between 1776 and 1780, before being urgently recalled home due to his father's failing health and the sudden, unexpected death of his older brother (the heir) due to pneumonia from a chill caught riding during the winter.
The Battle of Sullivan's Island (28th June, 1776),
The Battle of Long Island (27th August 1776),
The Battle of Harlem Heights (16th September, 1776),
The Battle of Fort Washington (16th November 1776),
The Battle of Brandywine Creek (11th September 1777),
The Battle of Germantown (4th October 1777),
The Battle of Edge Hill (5-8th December 1777),
The Battle of Monmouth (28th June 1778),
The siege of Charleston (29th March  – 12th May 1780)
The Battle of Camden (16th August 1780)
Castor and Pollux
Edit
The Viscount Saltash's whereabouts in the house may be discovered by the location of his two ancient pointers, Castor and Pollux, which, while barred from certain rooms such as the breakfast room and drawing room, will nonetheless lay with their noses over the threshold and slowly try to sneak more of their bodies inside the room.
When the Viscount is in his study or the gun-room, or the estate office, his presence may be located by the rather asthmatic breathing of the aforesaid pointers. One or other of them is generally to be found asleep with its head resting somewhat heavily on his Lordship's foot.
They were sired by Hector, who was given to the Viscount soon after his return from the Continent, and was included in the portrait which hangs in the ballroom.