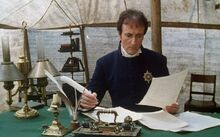 (Army) The Battle of Corunna (16th January) leads to the evacuation of most of the British Army from the Iberian peninsula, leaving a garrison in Lisbon, comprising the 5/60th and a handful of others.
General Sir Arthur Wellesley returns to Portugal to take command of the Army (22nd April 1809)
HMS Terpsichore engages and defeats a French frigate in combat (5th May)
Gabriel Cotton is flogged (12 May)
The Battle of Oporto was fought on the 22nd May (following StC's in-game timeline)
Gabriel Cotton marries Maggie Evans (24th May)
Ad blocker interference detected!
Wikia is a free-to-use site that makes money from advertising. We have a modified experience for viewers using ad blockers

Wikia is not accessible if you've made further modifications. Remove the custom ad blocker rule(s) and the page will load as expected.